Awards
Britannia Spice Awards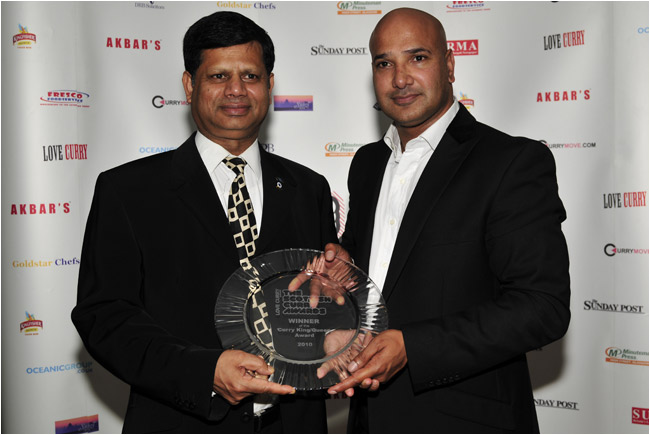 INDUSTRY AWARDS
Pat Chapman's Cobra Good Curry Guide: – Outstanding Restaurant 2013
Pat Chapman's Cobra Good Curry Guide: 2012 – Best in Scotland
BIBA (Best in Britain Awards): 2003, 2004, 2005 & 2006 – Best in Scotland
BCA (British Curry Awards): 2005, 2006 & 2007 – Best in Scotland
Irn Bru Scottish Curry Awards: 2008 Restaurant of the year
Pat Chapman's Cobra Good Curry Guide: 2004-2005 Top 100
Pat Chapman's Cobra Good Curry Guide: 2001 Best in Scotland
Les Routiers – Newcomer of the Year 2001
Best in Britain: Top 30 Winner 2004 (sponsored by Carlsberg)
Best in Britain: Top 30 Winner 2003 (sponsored by Carlsberg)
The Real Curry Restaurant Guide Best in Britain Award: 2002 Gold Medal
The Real Curry Restaurant Guide Best in Britain Award: 2001 Top 30 Winner
The Real Curry Restaurant Guide Best in Britain Award: 2000
Edinburgh Evening News and Lothian Business Excellence Awards: 2004 Finalist
Member of the Edinburgh team which won EthniCity 2003, which was EthniCity
Kingfisher Curry Capital: 2004 runner-up and shortlisted for 2003
Sunday Times Travel Magazine: Best Indian Restaurant in Scotland 2001
PRESS QUOTES
"The unique appeal of Britannia Spice is that customers can broaden their palates by trying a taste of lots of different cuisines. Where else can a party of four people can each try a taste of Thai, Bangladeshi, Sri Lankan or Nepalese dishes without suffering jet lag?" The Evening News
"Britannia Spice offers an eclectic mix of traditional cuisines. … In fact Wali Tasar Uddin claims that the quality of his chefs means they can prepare any dish. If it isn't on the menu, you simply have to ask." The Scotsman
"Britannia Spice offers a dining sensation destined to transport lovers far from dreich Edinburgh to the warm exotica of the other side of the world." The Evening News
"From restaurant owner to homeland rebuilder Dr Wali Uddin, Honorary Consul-General for Bangladesh in Scotland and the owner of the award winning Britannia Spice of restaurant in Edinburgh, takes it as axiomatic that a good, well run business has to be a caring one with a solid, community orientated side to it." Scotland on Sunday
Media Inquiries: Dr Wali Uddin on 07950 846 356
FEEDBACK FROM CUSTOMERS
…your restaurant was just wonderful, so warm and bright and clean and inviting… it really made up for the bad day we had just had… Sue Pomietlo (Suffolk)
…my favourite Indian restaurant… D B Lelievre (East Lothian)
Always consistently excellent service and food. Andrew McGlyn (Edinburgh)
Food first class, staff charming… Julian Libiard (York)
Very pleasant atmosphere… nice décor, friendly staff David Kettle (Birmingham)
Fantastic… food very well balanced with the spices… Jean Etienne (Edinburgh)
Great meal! Great service! Lee Fletcher (Edinburgh)
Everything was fab! A great meal! Brandi & Stephen Brand (Westmeath, Eire)
OUR LAUNCH
One warm summer evening in 1998, Wali Tasar Uddin MBE, JP and his old friend Ranil Saparamadu sat and discussed a concept unique to Edinburgh – indeed to Scotland. It was the vision of a multi-ethnic cuisine restaurant. From this casual chat careful survey work was carried out and the pair set out to find the site that would offer the best and most exciting potential for the venture.
Finally, a former Glenmorangie Whisky Bond at the entrance to the former Leith docks was found that would be at the heart of the multi-million pound redevelopment of the almost derelict dock area. Having secured the premises a team of investors was assembled, with Wali Tasar Uddin becoming Chairman, Ranil Saparamadu Financial Director and Abdul Muhaimin Miah, Abdul Kalam Azad, Abu Zaman (Executive Chef) and Foysol Choudhury becoming Directors.
Paris-based interior designer Arshad Alam was commissioned to produce a design that would be exciting and new and yet reflect in many ways the nautical heritage of the site, the ambience of the finest ships of the line that sailed to the mysterious east and replicate, in a small way, the standards of that most gracious lady of the seas, the Royal Yacht Britannia, which had taken up residence within sight of the new premises. Mr Alam's design has attracted universal acclaim – the premises are light and airy during the day and yet discrete and intimate in the evenings.
The restaurant – named Britannia Spice – was opened by the Lord Provost of Edinburgh, the Right Honourable Eric Milligan (pictured with Wali). The front door ribbons were cut jointly by Baroness Uddin of Bethnal Green and Ruhaly Uddin (Wali's youngest daughter) in front of a distinguished company of guests from all over Britain.